In this example we discuss the SUPG-stabilised solution of the 2D advection-diffusion problem
Two-dimensional advection-diffusion problem in a rectangular domain
Solve

in the rectangular domain

, with Dirichlet boundary conditions

where the Peclet number,

the boundary values,

, the source function


and the components of the "wind"

are given.
We set

and assign the boundary conditions such that

For large values of

this boundary data approaches a step, oriented at an angle

against the

axis.
In the computations we will impose the "wind"

illustrated in this vector plot: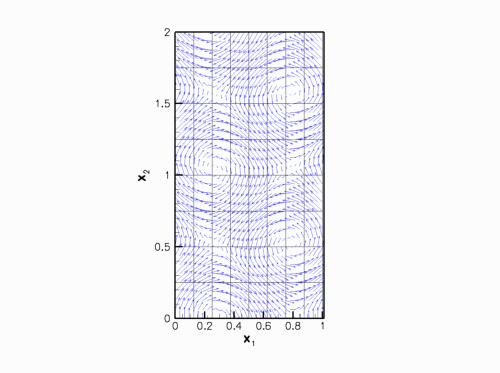 The figures below show plots of the solution for

and a Peclet number of

, with and without SUPG stabilisation. The wire-mesh plot shows the solution computed on a 10x10 mesh, the shaded surface represents the solution obtained from an unstabilised solution on a 150x150 mesh. Note how SUPG stabilisation "suppresses the wiggles" on the relatively coarse mesh.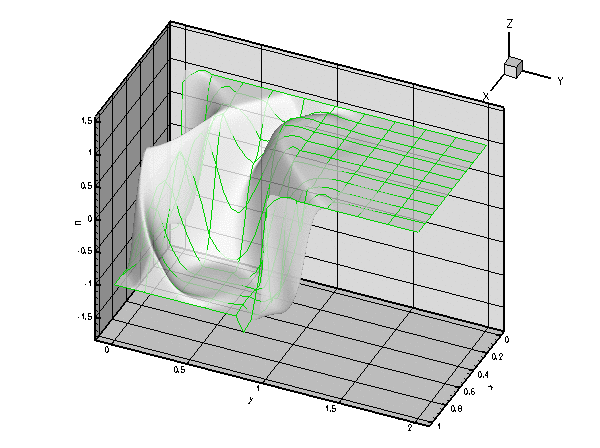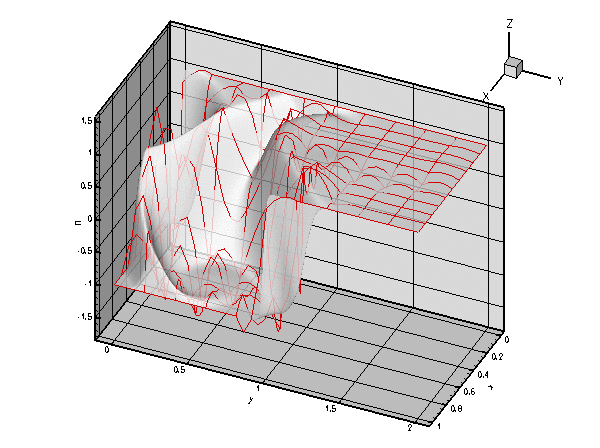 ---
---
The driver code
Overall, the structure of the driver code is very similar to that used for the problem without stabilisation.
To be written:
Discuss SUPG theory.
Implementation and the role of basis, shape and test functions (our equations are isoparametric)
Until we get around to completing this example, here's the driver code. Fairly self-explanatory, isn't it?
---
---
Source files for this tutorial
---
---
PDF file
A pdf version of this document is available.